Pete and I give the Big Thumbs Up after trapping all the PCs on a demi-plane in our Adventure, Pulp Dungeon: The Good, The Bad and The Ugly (for a change of pace the PCs were The Bad).

Effective keys to co-Dming a game: Pete describes the action while I see how many dice I can fit in my mouth.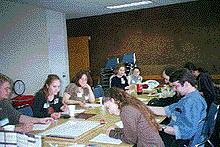 Look at all those women... Roleplaying!!! One of the male players commented that he felt there was a great disturbance in the balance of the universe that day. We had 12 players for our game and 7 of them were women.